Detergent Washing Powder,White & Blue Washing Powder OEM Manufacturer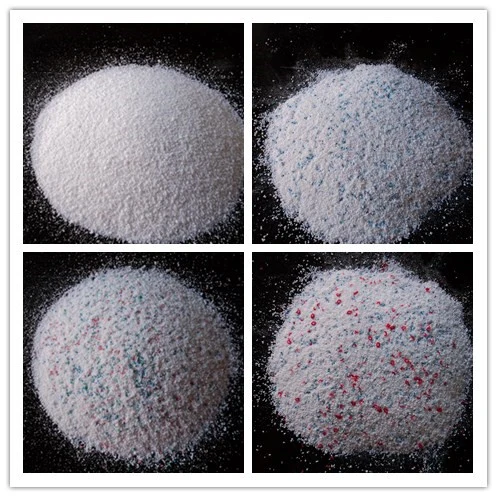 Detergent washing powder:
With compound formulation combining a unique functional surfactant, water softener and enzyme for easily removing bacterium and unpleasant odor, bleach out stubborn stains of sweat, juice, tea, blood, soy and more
Features:
1.Green-enzyme biochemical function: ensures easy penetration of fabric fibers, and complete removal of stains and scale
2.Brightening function: makes colored cloth much brighter
3.Softening function: makes cloth softer and more comfortable
4.Environmental-friendly: free from contamination, public nuisance and phosphorous
Options:
1.Strong cleaning power
2.High or low foam as per customer's requirement
3.High density or low density as per customer's requirement
4.Strong perfume or mild perfume as per customer's requirement
5.With or without phosphoric
6.Customized brand are welcome
Advantages
1. Our OEM service can meet your different demands.
2. Quickest delivery time
3. Multiple uses for clothes, floor, tables and toilet.
4. Dissolve quickly in cold, normal water to save time.
5. Fit for hand and machine washing.
6. High or low density as your requirement.
7. High foam, middle foam, low foam.
8. Fragrance lasting long.
9. Phosphorus-free &containing is available.
10. Easy to rinse
Available packaging way:
Plastic bag: 30g, 100g, 300g, 500g, 800g,1kg, 3kg, 5kg
Box: 500g, 1kg, 3kg
PP woven bag: 10kg, 15kg, 20kg, 25kg
Jumbo bag: 500kg, 1000kg, etc.
Specification:
Items

Content

An-ionic surfactant




(active matter)

7%~20%

4A Zeolite or STPP

5%

Sodium Carbonate

8%

Sodium Silicate

8%

Red&Blue Enzymes

2%

Brightener

0.02%

Perfume

0.3%

Moisture

3%

PH Value

9-11

Density

390-420

g/l

Sodium Sulfate

balance

Production Craft

spray dry tower

Note: OEM service can be offered, here we can
produce it as per your request specification and customized brand